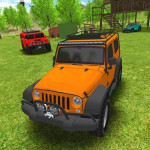 The online game 4x4 Drive Offroad has a really alluring countryside theme for all players. Turning the wheel to the countryside and being ready to smear some mud on your bumper are the game's objectives. You may play the game in two distinct modes. Why are you holding out? Join 4x4 Drive Offroad right now to take advantage of these wonderful chances!
In our other well-liked game, Real Stunts Drift Car Driving 3D, you may execute incredible street feats in the city rather than the countryside. A wonderful time!
Feature
Wonderful 3D visuals.

Seven distinct cars are available.

There are two distinct game modes.

There are 20 levels to go through.
Controls
The arrow keys are used to navigate the course, while the spacebar is used to apply the brakes. Level completion grants you money. The second phase is known as free mode. These can be used to unlock seven different automobiles. Enjoy!