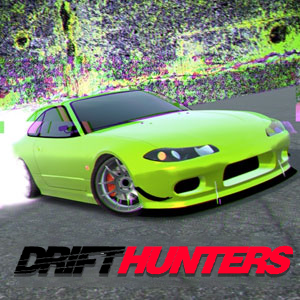 Want to be a furious racer in Drift Hunters? Race on numerous challenging and crazy racetracks and customize your supercars! This free drifting game offers you a variety of locations with awesome realistic 3D graphics. Your mission in this game is to drift a selection of cars on a variety of amazing racetracks. You can perform illegal full-speed drifts without the police chasing you! In Drift Hunters, players will enjoy the driving experience of a real sports car. You can tune-up the engine, transmission, turbocharger, brakes, and more. Try to find your perfect setup. You can also change the colors and types of the body and rims. Race to earn cash and upgrade your current car or buy a new one. There are more than 20 different cars for you to choose from. Find your perfect car and race on different tracks!
Developed by Studionum43 (Ilya Kaminetsky) and powered by the UNITY engine, Drift Hunters will give you a whole new 3D world with a stable frame rate. As it is a well-known game with 100+ million players, it will be difficult to get truly outstanding if you don't practice drifting and racing with a strong determination. In this easy-to-play game, you will get boundless treasure and gold. Starting with the iconic Toyota Corolla AE86, you can drift and improve your drifting skills. When you have enough money, you can unlock the Nissan S13, Toyota Supra, 2015 Mustang, even the RWB 911 and more. All your dream cars are right here! Start the race now and feel the true drifting experience!
Features
26 fully customizable cars.

10 unique racetracks

Upgradable performance

Adjustable realistic 3D graphics

Detailed car tuning

Earn money by gaining drift points.
Tips and Tricks
Emashi tracks and forest tracks are the best locations for drifting due to their long corners and lack of too many sharp turns.

You should use acceleration carefully when approaching steering corners while drifting at high speeds.
How to play
Drift and Tuning
Challenge yourself behind the wheel! The longer you keep up the float, the more your score multiplier increases. You can use your gained points to buy 26 customizable cars, including unique models like the high-performance Porsche 911 GT.
You can fine-tune your favorite car's settings: turbo, balance brake, front deflection, rear offset, and more. You can also upgrade the cars with premium parts to improve performance and edit the parameters to control them most conveniently.
Finally, you can choose the right color and enjoy a selection of rims to finish your car.
Controls
WASD or arrow keys-steer the car.

Spacebar - handbrake

C-change the camera position

Left shift - shift up gears

Left Ctrl-shift down gears.
Cars
Drift Hunters has 26 different cars with lots of models to choose from. The most expensive car is the Porsche 911 GT, and the fastest car is the Nissan GT-R.
Toyota Trueno GT-APEX (AE86)

Datsun 240Z

Nissan 240SX (S13)

BMW M3 (E30)

Mitsubishi Evolution (VIII)

Subaru Impreza WRX

BMW M3 (E36)

Nissan 240SX (S14)

Nissan Silvia Spec R (S15)

Honda S2000 (AP1)

Mazda RX-7 Type R (FD3S)

BMW M3 (E46)

Toyota GT86

Toyota Supra (JZA80)

BMW 1M Coupé (E82)

Infiniti G35 Coupé

Mercedes Benz AMG CLA Saloon (C45)

Ford Fiesta ST (Mark VI)

Nissan 370Z Coupe

Nissan Skyline GTR (R34)

Lexus GS

Dodge Challenger Hellcat

Ford Mustang Fastback (S550)

BMW 335i (F30)

Nissan GTR (R35)

Porsche 911 GT (993)
Best driving games
Driving games are usually a lot of fun. If Drift Hunters appeals to you, check out some of our other fantastic drift games, such as: Madalin Stunt Cars 2, Speed Racing Pro 2, Madalin Cars Multiplayer, Drift Boss .