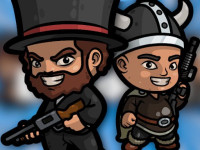 A completely destructible terrain characterizes the 2D multiplayer online game BattleDudes.io. The goal of the game is to engage in combat with other players while using guns, tanks, and other destructive tools. There are several playable maps and game styles. Join BattleDudes.io today to level up and earn XP!
Feature
Exciting online combat with a wide variety of weaponry.

Fighting in a variety of game modes and settings that emphasize tactical cooperation.

Several more benefits and aesthetic things.
Controls
You may defeat your opponents in this game by using one of the more than 20 different weapons available. With the number keys, you can quickly swap between the many weapons you'll have in each load.
To win fast, players execute these steps:
WASD to navigate.

I climb inside the vehicle while using the left mouse to fire and the right mouse to reload.

To change weapons, use the scroll or numbers 1-4.

M or Tab to enlarge the map.

In Settings, you may change the controls.