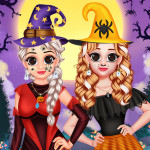 Let's start your day with Bffs Hello Halloween! The BFF girls decided to give each other an extra treat for Halloween this year. The girls then asked you to help them pick out Halloween-themed clothes and paint designs on their faces. They came to the conclusion that a pumpkin looks best when it has bright patterns, funny faces, and hats. Why are you holding out? Join Hello Halloween BFFs as soon as possible so you don't miss out on any great chances!
Feature
There are seven models to choose from, and each one has their own 15-piece clothing list.

A large number of clothes and other items. Vibrant images in 2 dimensions
How to play
To take part in the challenge, players move with their mouse and click the left button at certain points. Have a good time!