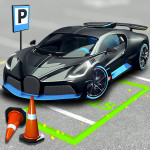 An online game called Car Parking City Duel has the very appealing premise of enhancing everyone's parking and driving abilities. In six race modes, the objective of the game is to challenge your city and eliminate your rivals. Simply get in your automobile and drive about the city, discovering all of its hidden gems as you like. Isn't it fantastic? Join Car Parking City Duel right now to take advantage of the exciting prospects available to everyone.
If you like this driving challenge, see our other car games in our selection of racing games, such as GTA Save My City. A wonderful time!
Feature
Excellent 3D visuals.

Possibilities for unlockable vehicles.

7 game challenges and modes.

Both individual and collective.
Controls
The arrow keys, or "W, A, S, and D," are used by participants to move; "left" and "O" are used to utilise nitro; and "spacebar" and "P" are used to brake. To get rid of adversaries, you may smash into them, although doing so may have the opposite effect and hurt you more. Try every mode, keep earning, and find the garage's secret vehicles!