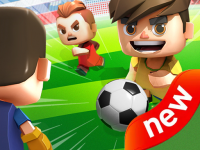 Champion Soccer is a free, universally appealing online soccer game. Today is competition day, and all of the players in this game couldn't be more pumped. Many of your supporters are looking to you to put on a show and help you achieve victory. Asking whether you think you have what it takes to win Become a part of the Champion Soccer Club right now!
Feature
Vibrant, 2D visuals.

There are 5 available heads, so choose one.

Fun and simple to use controls.
How to play
Participants use the mouse for movement, the space bar to kick or slide, and the arrow keys or WASD to control their direction of movement throughout the challenge. Watch out for the difficulties and dangers of the round!