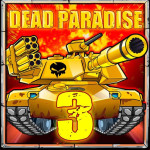 A gigantic tank-themed online game called Dead Paradise 3 has the goal of safeguarding scientists for all players. Joining and guiding the survivors to a safe haven is the game's objective. Isn't it fantastic? Join Dead Paradise 3 now to take advantage of these wonderful chances!
Feature
Numerous obstacles and tools for players.

Pleasant, straightforward setup.

Beautiful 3D visuals throughout the game.
How to play
Players take part in the challenge by moving and following directions with the mouse. Arrow keys may be used to move and balance. The Z and X keys may be used to spin your weapon. Rocket launching requires space. Keep in mind that you may benefit from using your fuel. To burn your adversaries, press C to drop gasoline on them. Good fortune!