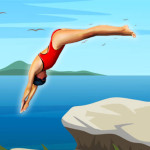 Welcome to Dive Masters! This is a really alluring fighting-themed online game for everyone. To do a front flip and a back flip from high cliffs, high platforms, trees, towers, and trampolines is the objective of the game! Choose from a selection of characters. Why are you holding out? Don't let great chances pass you by—join Dive Masters right now!
Feature
Vivid 3D graphics.

Infinite platform.

If you have trouble with the rewarded advertisement, you may still play.

Various platforms and difficulties.
How to play
Participants take part in the challenge by moving with the mouse and clicking at the appropriate times to target the leap angle. Players may also learn new diving maneuvers and techniques. Make an effort to enter the water precisely!
Join our Driving collection if you like the Flip Diving game. Good fortune!