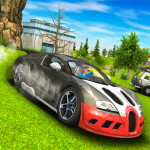 Everyone may enjoy the difficulty of Drift Car Extreme Simulator, a 3D racing-themed online game. Successfully completing the difficult race for the highest score is the objective of the game. Feel free to bring a car and explore the grounds at your leisure. Improve your vehicle's braking ability, acceleration, tyre grip, and gas mileage. That's fantastic, right? Don't put off joining Drift Car Extreme Simulator until you've seen all it has to offer.
Our selection of driving game includes the likes of Drift Car Extreme Simulator and Offroad Kings Hill Climb Driving, among many more. How exciting!
Feature
Vibrant 3D visuals.

Unlockable new vehicles.

Joystick driving prowess.

There are three major ways to test your mettle.
Controls
To drive and drift, use the WASD keys or the arrow keys. Race mode is great fun, and if that's not your thing, then try out the mission mode. Keep an eye on your gas, snap some photos if you like, and aim for the finest drifts you can. Have fun!