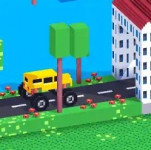 Welcome to Drive Kids! The thrilling multi-level racing series' sixth episode is now available. The objective of the game is to complete a race with various stages and obstacles while taking on the racing challenge. Pay close attention to the course since there are several obstacles that will impede your attempt to cross the finish line. Why do you persist in waiting? Start Drive Kids right now!
Control
W, A, S, and D, or the arrow keys, are used to move throughout the task. The user also has the option of using the mouse, Z, X, and Space to control the game and get to the next level.
How to play
Anything might happen, and you could be stranded anywhere in this Drive Mad series. The game's stages will contain lifts, slopes, and straighter routes. Try to conquer the challenges that arise throughout the round to get to the finish line as soon as possible!

Other Jeep: Mad Driving games that come to mind include FarAway and Pickup Truck. See you in a new game with challenging levels!