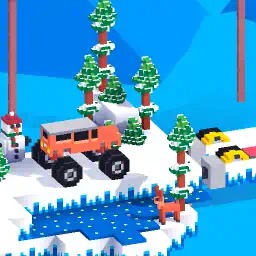 Welcome to Drive Winter! This is a really alluring online game with a racing theme for everyone. The objective of the game is to race against large pixel trucks on cold and icy roads, with a new challenge waiting for you at every new level. It's interesting, yes? Sign up now for Drive Winter!
Feature
Attractive 3D graphics game.

Everyone can enjoy the game.

There are several levels for players to master.
How to play
The challenge is completed by controlling the mouse with the WASD, Arrow, or Z, X buttons. The player must hit "Space" in order to restart the level and attempt it again. When playing on a computer, use the mouse to control your actions. When playing on a phone or tablet, use your finger directly on the screen. Hold the right pedal to go forward and the left pedal to move backward.
We are certain that you will truly like the sequel, Drive Winter, if you enjoyed the first game in the fantastic racing series, such as Jeep: Mad Driving. Good fortune!