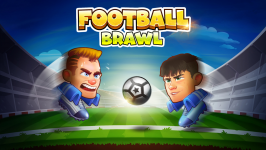 Football Brawl is a very appealing online football game that everyone can enjoy. The object of the game is to enter the arena and use a variety of strong kicks to defeat your opponent. Tell them who will be the next football legend in history. Let's make Football Brawl a well-known player right now!
Feature
Vivid 2D graphics.

Suitable environment for entertainment.

Levels to be completed.

Enjoyable and simple game.
How to play
Use the A and D keys to move. When using the spacebar, you may leap. Use the H or J keys to fire the ball. Clicking the K and L keys will activate them when your power is fully charged. Utilize the available player emoticons and random match power.
Join us and explore our selection of World Cup games for more thrilling games. Good fortune!