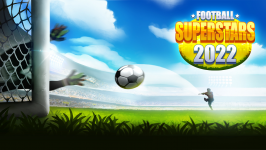 With Football Superstars 2022, let's keep the wonderful memories alive! This is a new kind of online mini-soccer game that's incredibly user-friendly. The objective is to put the player's abilities to the test in a friendly game against other players from across the globe. Take your squad to the world's largest event. Why are you holding out? Sign up now for Football Superstars 2022!
Feature
Stunning 2D visuals.

A fun, athletic environment.

A sixth sense.

Options for tournaments and friendly games.
How to play
To participate, players may choose from 2 modes and 7 foreign teams. In a friendly match, you and your opponent can choose any team. The goal is to beat the other teams that were picked at random to win the trophy. Using the arrow keys to move, the A key to pass, the S key to pass or switch, and the D key to fire or handle is the quickest method. Good fortune!

Check out our list of 2022 World Cup games to find a variety of fun football games. Be a champion right now!