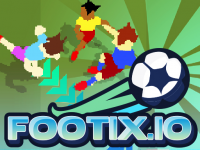 In the fast-paced online soccer game Footix.io, the only way to win is to work with a teammate. Players compete to advance the ball past the opposition and across the finish line in the shortest amount of time. Click "Tutorial" to see how to play; click "Global Chat" to talk to others. In readiness? Don't miss out on exciting opportunities by joining Footix.io right away!
Feature
Multiplayer PVP.

Use a chair to strike the opposition.

Attend this World Cup and represent your nation.

Create a unique character.
How to play
Use the WASD keys or the mouse to move while participating in the challenge: right-click to run, left-click to kick, and space to slide, hey: E. Create an account as soon as possible to keep track of your statistics!
Additionally, take a look at our World Cup collection, which includes Soccer Heroes. For the 2022 World Cup season, this is one of the most intriguing games. Lucky you!