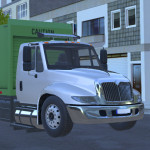 The online game Garbage Truck Driving maintains cleanliness in the city by including a sizable garbage truck theme. The objective of the game is to maneuver the automobile and demonstrate your driving prowess through the obstacles. In this game, the top of the screen is where you can monitor your time. Why are you holding out? Start driving a garbage truck right now!
Explore the engrossing worlds of our other 3D Games and get lost! Look through our selection to choose your next trip. A wonderful time!
Feature
Vivid 3D graphics.

Logical controls.

Upgrades to be unlocked.

Many tasks to accomplish.

Enjoyable gameplay.
Controls
Players participate in the challenge by controlling the vehicle using the WASD keys. Let's explore a little bit first. There will be sacks of cash lying about. Your bank account will grow if you collect them. But there are other ways to earn money as well. You only have a certain amount of time on a mission to complete the task. Good fortune!