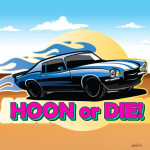 Everyone should play the very alluring online game Hoon or Die, which has a fighting concept. The object of the game is to gather cash and gas cans while avoiding police vehicles by using the one control you have over the vehicle. Move swiftly to cause mayhem behind you, be cautious of obstacles in your way, and drop explosives when the going gets tough. Why are you holding out? Sign up for Hoon Or Die now!
Feature
Vivid 3D graphics.

An easy control system.

A difficult and compelling game.

Locked cars can be opened.
Controls
The arrow keys may be used to play this game. Keep an eye on your gasoline level and grab any empty cans you see to fill up. Visit the game shop to get new cars for your collection.
If you like this difficult run, you may also like other driving games, such as Drag Racing City. Good fortune!