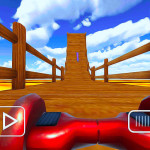 Hoverboard Stunts Hill Climb is glad you're here. This is a highly intriguing online game for everyone with an off-road racing theme. The object of the game is to use your hoverboard to ascend as high as you can. Make sure to prepare for hoverboarding. Why are you holding out? Hoverboard Stunts Hill Climb invites you to a wild and challenging road arena!
Feature
3D visuals and engaging audio.

Several upgrade features are available to players.

Basic yet attractive game rules.
How to play
Players take part in the challenge by moving with the mouse and finishing it as quickly as possible. The flying route, beach surroundings, traffic lights, and any other impediments must all be avoided while changing directions and maintaining balance. Good fortune!