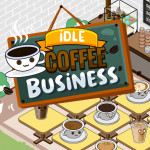 Create your own coffee shop right now with Idle Coffee Business! This is a really intriguing business-themed online game for everyone. Participants in this game grow your café from a little plot of land into a multimillion-dollar business empire. You may earn cash by serving various coffees. To earn extra money, unlock more coffee recipes. To increase earnings, enhance your recipes. Are you still awaiting more? Sign up for Idle Coffee Business now!
Feature
Nice graphics with a café vibe.

Allow social media to boost sales at your coffee business.

Games that are responsive and function on various types of devices
How to play
Players take part in the challenge by navigating the game's tasks using the mouse. Build up your empire of cafes. Good fortune!