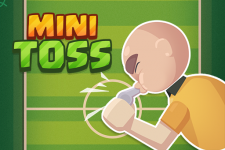 Football aficionados will find the online game Minitoss to have a really intriguing concept. The purpose of the game is to move the ball into the other team's goal as many times as you can in the least amount of time. Move swiftly, pay attention to the other team, and get to the finish line as soon as you can. Why are you holding out? Sign up for Minitoss now!
Feature
Vivid 2D graphics.

There are five distinct head options.

Logical controls.

Enjoyable gameplay.
How to play
In this Minitoss game, you use your mouse to move around and try to beat your opponent. Good fortune!