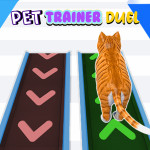 Pet Trainer Duel can assist you in helping your pets conquer obstacles. This is a fun platformer that can be played online. The objective of the game is to become a pet trainer and build a foundation for overweight cats that will test them in their weight-loss attempts. Why do you persist in waiting? To not miss the amazing prospects, join Pet Trainer Duel right now!
Feature
Vibrant 2D graphics.

After failing, watch the paid advertisements to continue.

Control schemes that are simple and enjoyable.

Accessible in two-player mode.
How to play
The objective is to maneuver the cat over the level using just the arrow keys. For player 1 in two-player mode, use the A and D keys, and for player 2, use the arrow keys. Keep them from gaining weight as much as you can, because if they do, they won't be able to cross the glass bridge!

Check out the other animal themed games in our library if you like assisting adorable kitties in their endeavors. Lucky you!