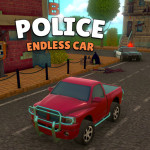 Everyone may enjoy the incredibly appealing racing theme of the free game Police Endless Car. To prepare for the escape game is the game's objective. A police vehicle is just behind you. It will pursue you until you are apprehended. You won't give up lightly, however. You still have a long way to go, and it's filled with things that might easily derail you. Why are you holding out? Sign up now to join the Police Endless Car!
Feature
Vivid 3D graphics.

Infinite levels for gamers to access.

Difficult racetrack.

Plenty of missions to finish.
Controls
To drive and leap over obstacles, use the arrow or WASD keys on your keyboard. Collect as many coins as you can, and never pass up the opportunity to get diamonds. See how far you can go without being discovered!
In order to find new experiences, if you like driving in this game, you should also watch Hurakan City Driver HD. Good fortune!