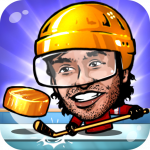 Are you prepared to play Puppet Hockey at the national level? Everybody will find this online game quite appealing. In this online sporting event, teams from all around the globe participate. Help one nation win the hockey world championship by selecting that nation. skating, jumping, and puck-firing. Fast reflexes and good timing are required for a successful shot. Take a step back and shield your goal from your adversary's shots. Why do you persist in waiting? Don't miss out on great chances; join Puppet Hockey right now!
Feature
Based on the HTML5 platform.

Computers, Android, and IOS devices are all supported.

2D views and lovely graphics.
How to play
Moves are made by participants using the left and right arrow keys. Jump by using the up arrow key; strike the ball by pressing the spacebar. To play on mobile devices, tap the on-screen controls. Lucky you!