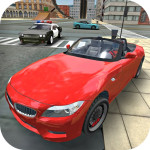 An online game with a highly alluring and risky driving concept is Real Stunts Drift Car Driving 3D. Driving across a typical road without much difficulty is the game's goal. Put your seatbelt on and accelerate. Perform different tricks to earn as much money as you can. Why are you holding out? Sign up now for Real Stunts Drift Car Driving 3D!
Click here to play our other well-liked game, Nubic Stunt Car Crasher and take things a bit farther. A wonderful time!
Feature
Vivid 3D graphics.

There are nine different vehicles you can unlock and operate.

Simple controls.

Game for entertainment.

To drive through busy traffic.
Controls
To maneuver your automobile, use the arrow keys or WASD. To use the handbrake, press the spacebar. You can view your speed and the amount of money you've earned via stunts in the upper left corner of the screen. You may change the perspective by clicking the camera icon in the upper right corner, and you can move your car if you are run over by pressing the reset button. Good fortune!