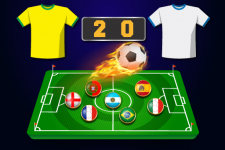 Welcome to the 2022 World Cup! Soccer Caps League is one of the most visually appealing football matches this season. Players take part in the challenge competition and succeed as a team. Select the team of your choice, then manage your players to score. It's time to engage in combat and claim the championship trophy. Why are you holding out? Sign up now for the Soccer Caps League!
Feature
There are 36 available national football teams.

Vivid 2D graphics.

Playing is engaging with simple controls.
How to play
Players can take part in the challenge by moving the mouse, clicking on the cap or person, and changing the direction and power of the shot. Pay attention to all of your surrounding rivals!
You may find more fun games in our World Cup collection in addition to Soccer Caps League. Good fortune!