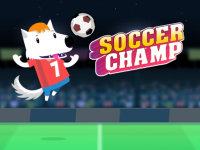 Everyone may have fun playing the soccer-themed online game Soccer Champ. By advancing the ball into the goal, players take part in the challenge. When the ball is in the proper place, kick it to score. Within 30 seconds, get the highest possible score. Why are you holding out? Sign up for Soccer Champ now!
Feature
A canine soccer match.

Several diverse canine adversaries.

The outcomes of each round of play are recorded in the goal statistics.
How to play
When the ball is directly on target and in the goal, participating players move it with the mouse. Gain more time for precise kicks. In our World Cup collection, find more entertaining games!