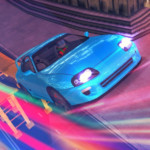 Everyone may play the difficult driving-themed online game Supra Drift Stunt. Driving around city streets while doing stunts is how the game is played to win points. To prove to everyone that you are invincible behind the wheel, do stunts, attain peak speed, and get points. Why are you holding out? Join Supra Drift Stunt right now to take advantage of these exciting prospects!
For more information and to play our selection of online and free automobile games, go Drift Game. Happy!
Feature
Vivid 3D graphics.

Simple controls.

Game for entertainment.

A menu where you may change the stats of your car.

A wonderful place for driving around and exploring.
Controls
To move about, use the WASD or arrow keys. Press Y to change the color of your automobile, F to accelerate, and G to slow down. For a handbrake, use the spacebar. Good fortune!