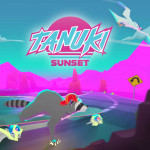 Everyone may play the online game Tanuki Sunset, which has a high-speed skateboarding theme. You'll fall in love with this game as it combines aesthetic elements. The object of the game is to make incredible spins and slides to earn more points for yourself and to get access to additional tools and features. Take an adventurous voyage filled with challenging hurdles. In readiness? Sign up for Tanuki Sunset now!
Feature
Gameplay is enjoyable.

Vibrant 2D graphics.

Quick controls.
How to play
To take part in the challenge, players use the mouse to move around and follow the instructions. Use the arrow keys or the letter L to turn; hold A or Space to drift; or L to rotate 180 degrees. To trigger Bonus Roulette, let's get 20 Tanuki Bits. Lucky you!