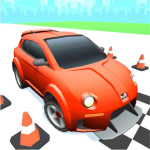 Everyone may enjoy the incredibly alluring racing theme of Toon Drive 3D, an online game. Starting with your SUV, the game's objective is to unlock more automobiles as you go through its many, one-of-a-kind stages. Be a skilled driver and an expert at parking. Why are you holding out? Sign up for Toon Drive 3D now!
If you like driving games, especially unique ones like 2D Dark Racing, you shouldn't miss our selection of racing games. A wonderful time!
Feature
Straightforward one-finger control.

Portrait orientation.

Trucks, Jeeps, SUVs, off-road vehicles, and supercars are a few examples of vehicles.
Controls
Players take part in the challenge by moving according to the round's directions using the mouse. Put on your seatbelt and let your racing instincts run wild as you manoeuvre outrageous automobiles around this bizarre parking lot. Rooftop levels are a challenge, but intriguing virtual worlds are entertaining. Good fortune!