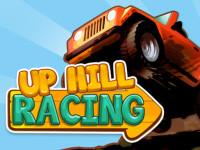 Everyone may enjoy the incredibly appealing racing theme of the online game Up Hill Racing. The object of the game is to attempt to climb the hill as far and as high as you can. You must go to the route's conclusion to finish the level. Gather coins to purchase upgrades, vehicles, or racetracks. Have you prepared? Join Up Hill Racing now to take advantage of these wonderful chances!
Feature
Vivid 2D graphics.

Enjoyable gameplay.

Endless levels to finish.

Several autos to unlock.
How to play
The arrow keys may be used to play this game. Accelerate your vehicle and gather cash to buy boosters that will increase its capacity to handle curves and maintain stability at high speeds.
Would you want to play more games similar to this? If so, take part in the many competitions in our library of totally free online racing games. Good fortune!