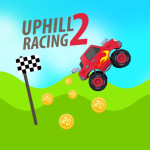 The online racing game Up Hill Racing 2 has a highly alluring competitive premise for all players. Driving past hazardous dangers and difficult terrain is the game's goal. Try to maintain a full wallet and gasoline tank, as well as high grades and keen senses. Isn't it fantastic? Join Up Hill Racing 2 now to take advantage of these wonderful chances!
If you like this exhilarating and fascinating journey, see what else we have in our selection of racing games. Happy!
Feature
Vivid 2D visuals.

Upgrading the game shop.

Great and addictive game.

Accessible using mobile devices.
Controls
The arrow keys may be used to play this game. You might attempt to move back a little and accelerate up to get through these barriers to avoid being stranded in the pit. Keep your car balanced against abrupt ramps and tremors, since going upside down puts you out of the game. Good fortune!