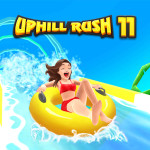 The game Uphill Rush 11 has a really alluring action theme for all players. Choosing one of the inflated rings or unlocking additional objects like the water motor are the game's objectives. On higher levels, you may enhance your acceleration, speed, balance, and acceleration. Why are you holding out? Join Uphill Rush 11 now to take advantage of these wonderful chances!
Feature
Vivid 2D visuals.

To unlock, use a water motor and inflatable ring.

There are 20 challenging levels.

Rushing along an exciting path.

Advancing skill sets.
Controls
The task is completed by using the up and down arrow keys to accelerate and decelerate. With the left and right arrow keys, you may rotate in any direction. When it is full, use your gains by hitting the spacebar. Get stars by doing parkour as quickly as you can while sliding downhill, collecting money, navigating obstacles, and completing other tasks.
If you had fun on this wild trip, keep playing Uphill Rush 12 to experience the first adventure and finish the second episode of the show. Good fortune!