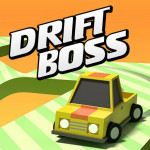 The Drift Boss online game is all about racing and is free. In Drift Boss, players can drive through challenges and control their car. Drive your car like a real boss. You can drift right or left with great timing. Your slides and slides in tight spots should be anticipated and paid attention to. How many points will you earn? Join Drift's bosses right away!
Feature
Amazing three-dimensional arcade scene. Get better vehicles by getting more points.

It is fully responsive and well-made.

The ability to use a full screen.

It is a fun sound track.
How to play
In Drift Boss, players have to go as fast as possible without crashing on the roads. Even though driving requires practice, this game is easy to use. Choose one of eight cars from the main menu to start the game. At first, you will only be able to unlock one car, but with the money you earn, you can unlock more. To make your car turn sharp corners, tap the screen or press the SPACE BAR button. Your car will drift along the road, so plan your moves in advance. Good luck!
Some more racing games are Tunnel Rush and Idle Breakout, may be you like it. Good luck!