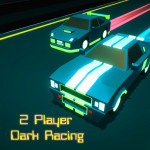 The online game 2 Player Dark Racing is free and open to anyone. It has a speed-racing theme. Before you can race with other people, you must first get a vehicle. The Shadow Racing game lets you compete with a friend both locally and online. To have a lot of fun, race with a friend in the dark.
Feature
Stunning 3D visuals.

Beautiful neon color scheme.

Locks are easy to get off and cars can be accessed.

You can turn gameplay mode on and off.
How to play
Use the WASD and arrow keys to drive. Keep an eye on your speed. Keep your distance in mind. Have fun!