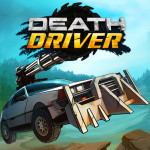 Everyone can have a great time playing the racing-themed online game Death Driver. As you participate in this fascinating game, the objective is to drive and never glance behind. Your objective in this thrilling adventure is to drive your automobile for as long as you can while earning a high score. When your opponents attempt to destroy you, the struggle starts. A helicopter is keeping watch over you and firing at you. Isn't it fantastic? Join Death Driver right now to take advantage of exciting chances!
Check out Zombie Paradise Fury Road by selecting the Driving Game collection if you're seeking more adrenaline-pumping zombie adventures. Enjoy!
Feature
Vivid 2D visuals.

Exciting storyline and people.

Cars may be unlocked in-game.

Entertaining and fun game.
How to play
Playing this game requires either a mouse or a finger. From the upper left corner of the game screen, you can see how many lives are left. To travel ahead, hold down the button, and to flip, push. To replenish your life bar, try to gather equipment along the route. Good fortune!