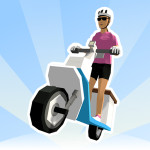 Delivery Racer is a really alluring racing concept for all players. The object of the game is to ride a motorbike and use your mouse to drive from lane to lane while attempting to collect as many street foods as you can before delivering them via the allocated region. You gain more points at the level's conclusion the more food you pick up and deliver. Why are you holding out? So that you don't miss out on any great prospects, join the Delivery Racer right now!
Features
Vivid 3D graphics.

Pass 10 levels.

Logical controls.

Enjoyable game play.
Controls
Playing this game requires either a mouse or a finger. Make sure you cross the finish line safely, which includes avoiding roadblocks and city trains.
Check out City Truck Driver in our collection of racing games if you want to play a different game that is comparable to Delivery Racer. Good fortune!