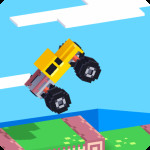 The online game Drive Skin off-road theme is sure to appeal to everyone. The game's objective is to navigate dangerous terrain and reach the finish line as quickly as possible. You must drive carefully and take in all levels. Are you prepared? Register for Drive Skin today!
Feature
2D graphics, 30 difficult steps.

Six different Jeeps are available to choose from.
Controls
The challenge requires players to move and follow the instructions using the mouse. Use the arrows W-D, D, X, Right, and Up to move forward. To reverse, use S, A, Z, down, and left. As soon as possible, guide the off-road vehicle towards the finish line.
If you enjoy challenging yourself with more interesting tasks, please take a look right now at our Fancade games. All the best!