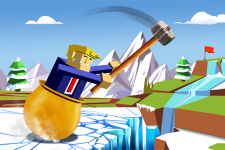 The online game Getting Over Snow has a Christmas theme that everyone may appreciate. Use your trusty hammer to smash through icy slopes and free trapped animals in Snow Pass. In the meanwhile, your hero will expertly navigate the last stretch while you fine-tune the hammer's length. To amass wealth while also aiding animals, gather precious stones and other items. You should just get started now. Get over the snow and become a member of Getting Over Snow now!
Feature
Lovely 3D visuals.

A variety of skins featuring humorous and endearing animal characteristics.

Game shop and unlockables.

Increase your agility and quickness of response.

Available via mobile device.
How to play
To take part in the challenge, users must move the mouse and maintain the click to change the hammer's length. Always keep an eye out for new obstacles as the game progresses.

We have a wide variety of Christmas games, like Getting Over Snow and Santa Parkour. How fortunate you are!