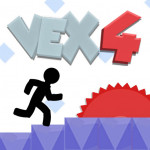 Get ready with Vex 4! The fourth installment of the Vex game series offers players a variety of captivating challenges. Get ready to race at peak speed, leap over dangerous ravines, avoid lethal traps, and climb to the summit. Manage your actions as you leap over several barriers to succeed. Put on your running shoes and stretch. What are you waiting for? Sign up for Vex 4 now!
Feature
9 games to play with incredible physics.

Challenge room.

Various titles.
How to play
The arrow keys on your keyboard or AD may be used by participating players to move. Jumping is accomplished by pressing W or the up arrow key. To crouch, use the S or DOWN arrow keys. Good luck!
Additionally, gamers may go through other episodes of the series in our collection of Vex games. Good luck!