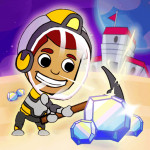 Idle Miner Space Rush is a really intriguing exploration concept for all players. Deep diving is used by players to dig labor-intensive mines and make the most of this mining area. You can only become the richest miner and the winner if you can consistently dig deep and improve your skills. Have you prepared? Register for Idle Miner Space Rush right now!
Feature
Play IO against people from across the world in real time.

Vivid 2D graphics.

Locking suits and heads.

Idle play can help you improve your skills.

Global and territorial leaderboard.
How to play
By moving the mouse in the direction you wish to mine or by using the arrow keys to mine in that direction, participating players complete the challenge.
You may also check out the Diggy game if you want to explore and push yourself with some more fun games. Enjoy your day!